TEXI TRONIC 7 PREMIUM EX
Automatic, mechatronic lockstitch machine with closed lubrication circuit - complete machine - 2 years warranty
Industrial sewing › Lockstitch machines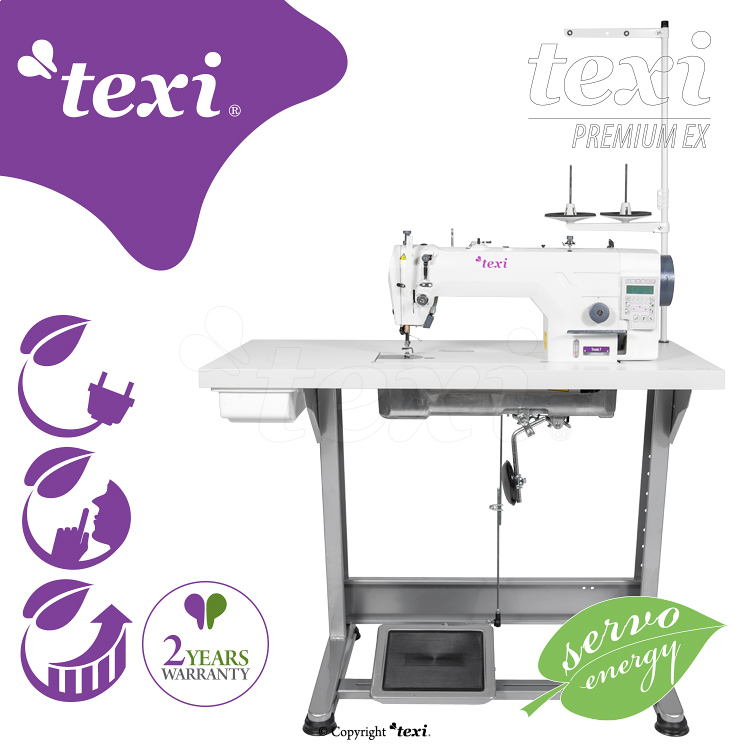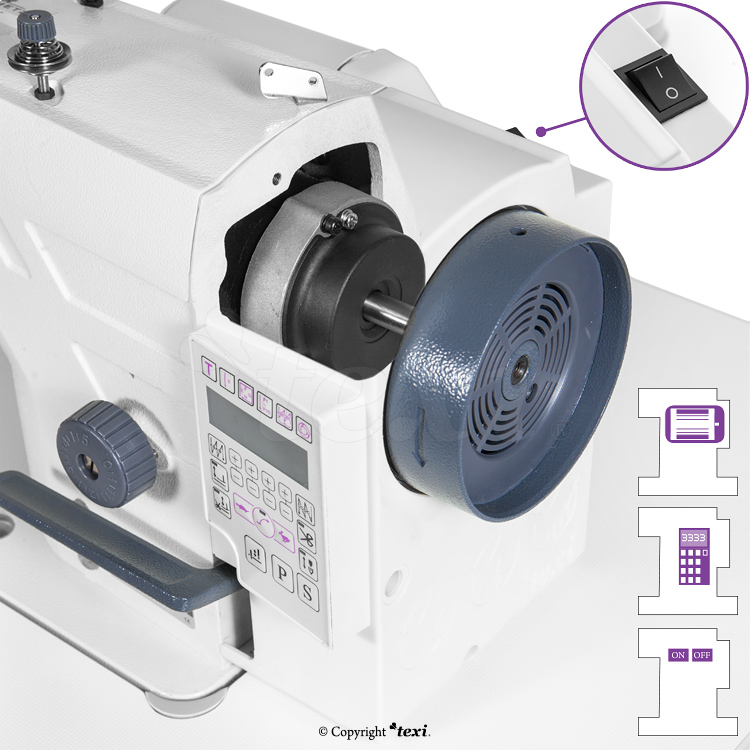 Description:
Tronic 7 model is 1-needle lockstitch machine for light and medium materials, now with energy-saving AC Servo motor, control box, programming control panel and power switch integrated into machine head (mechatronics "all-in-one" set).
NEW DESIGN
DIRECT DRIVE
ENERGY SAVING AC SERVO MOTOR AND CONTROL BOX INTEGRATED INTO MACHINE HEAD
MORE SILENCE
MORE EFFICIENCY
Serial equipped with automatic functions: thread trimmer, reverse feeding with programmed size of the initial and final bartack, foot lifter, needle positioning and controller of initial stitch. Integrated 3 degrees adjustable brightness energy-saving LED lamp for lighting of working field.
Machine with increased sewing field (distance between needle bar and machine's arm is 30 cm) and closed, shortened lubrication circuit (dry needle bar) which effectively prevents fabric staining during sewing.
Thanks to integration of all elements the machine works quietly and without adverse vibrations. AC Servo motor saves up to 70% energy comparing to a conventional electronic motor or clutch motor.
Technical specification:
- for sewing light and medium fabrics
- bottom feed
- voltage 220-240V
- built-in energy-saving AC Servo 550 W motor
- 70% energy-saving
- large working space with 30 cm between the needle bar and machine arm - ideal for patchwork and quilting
- quiet work, minimized vibrations
- automatic functions: thread trimming, reverse feeding, foot lifting, needle positioning
- energy-saving LED lamp for lighting of working field
- maximum sewing speed 5.000 s.p.m.; with factory setting 4500 spm
- stitch length up to 5 mm
- foot lifting up to 13 mm
- "dry", closed lubrication circuit
- needles system 135x5 or 135x5 SERV7, with correct needle points, depending on the fabric.
Offered in TEXI PREMIUM EX package
2 YEARS WARRANTY PREMIUM EX
Texi industrial lockstitch machines have 2-year, full warranty.
STAND TEXI PREMIUM SILVER - steel, stable and durable universal stand with height adjustment. Powder painted in silver colour RAL 9006, which fits to line of Ergolinia chairs.
TABLE TOP TSM PREMIUM - the highest quality table top made of moisture resistant birch plywood (30 layer) which perfectly damps vibrations. PREMIUM table top surface is coated with a special laminate with a structure suitable for the textile industry. Maximum resistant to impact, abrasion and splinters. Sides protected by ABS slats. TEXI PREMIUM table tops do not contains harmful ingredients.
TEXI VARIO 8 - set of accessories enhancing quality and facilitating work
1. SMG - magnetic gauge for sewing with equal distance from the needle
2. CR10N 1,0MM - compensating narrow foot 1.0 mm, right
3. RF10 1,0MM - compensation PTFEed foot 1.0 mm, right
4. T35 - PTFE foot for sewing leather and difficult materials
5. P25 - hemming foot 1/8"
6. P36LN - cording foot, left, narrow for sewing in zippers and sewing on the edge
7. P723 - foot for equal stitching, with left and right gauges (patchwork and quilting)
8. DMTS - tailor's tape measure Hoechstmass standard, length 150cm, width 19 mm (made in Germany).
7 1/2" (19 cm) Titanium coated, professional dressmaker scissors with lifetime guarantee.
Enjoy the silence, save energy.
Technical specification:
| | |
| --- | --- |
| Type of fabric | light, medium |
| Type of feed | bottom feed |
| Automatic thread trimming | yes |
| Autoamtic needle positioning | yes |
| Automatic foot lifter | yes |
| Automatic bartacking | yes |
| Wiper | yes |
| Stitch compensation button | No |
| Built-in AC Servo motor | yes |
| Type of lubrication | closed "dry" circuit |
| LED lighting of working field | yes |
| Max. stitch length | 5 mm |
| Presser foot lift height | 13 mm |
| Needle system | 135x5 |
| Max. sewing speed | 5000 s.p.m. |
| Table top | standard 105 x 50 cm |
| Warranty period | 24 months |
| Max. sewing speed | 5000 s.p.m. |
| Power supply | 220-240 V |