TEXI 75 PPS NEUTRAL 015
Tagging pins 15 mm standard, neutral, 1 single box = 5.000 pcs
Labeling › Pins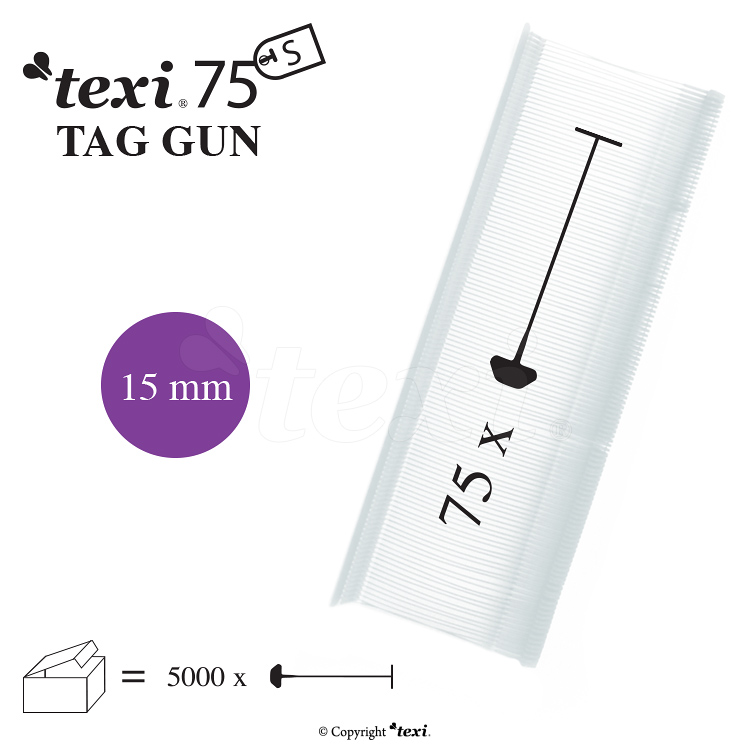 Description:
Tagging pins 15 mm standard, neutral, 1 single box = 5.000 pcs

Single box size - 60 mm x 100 mm x 240 mm
Package box size - 538 mm x 252 mm x 260 mm
Package box = 20 single boxes

Texi 75 is a product series, consisting of tagging guns, tagging gun needles, tag pins and loop lock.
Adequately to the kind of tagging material, it is possible to use standard or fine version

Tag gun needles available in Premium and Regular quality are universal needles which can be used for other tagging guns as well, such as HAJO, DENNISON, SYSTEM 75, SYSTEM 120.

Tag pins available in neutral and black color. Available in standard and fine material with 75 pcs per strip in various length according to your needs. Also universal tag pins which can be used in other brands of tagging guns.

Secure tag pins (Loop lock) for manual labeling is available in 130 mm size & 230 mm, neutral color.

Texi 75 series can be used for fastening labels to clothes, shoes, toys, caps, gloves (by means of the tagging gun) as well as to glasses, jewelry, bags, suitcases, joining products into pairs (manual labeling).

You save your time and fastening safely using Texi 75.